Spring has arrived, and it's the perfect time to get your garden in shape! Whether you're an experienced gardener or just starting out, one essential step is to add a layer of fresh mulch. Not only does mulch make your garden look neat and tidy, but it also provides a range of benefits, including:
Helping to retain moisture in the soil

Reducing weed growth

Regulating soil temperature

Providing nutrients as it decomposes
If you're looking for convenient mulch delivery near you, there are plenty of options to choose from.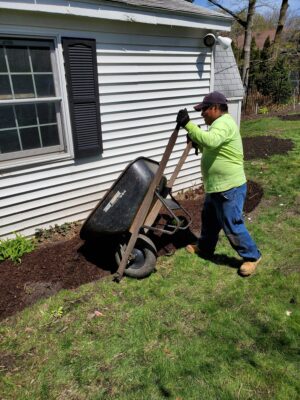 Here are some tips to help you get started:
Determine the amount of mulch you need

Measure the area you want to cover and calculate how much mulch you'll need. Mulch is sold by the cubic yard, so use our online calculator to help you figure out how much to order. (You can find this at the bottom of mulch product pages or under our frequently asked questions)

Choose the type of mulch

There are many different types of mulch to choose from, including southern bark mulch, colored mulch and triple ground mulch. Consider your budget, the look you're going for and any specific needs of your plants.

Find a local mulch delivery service

Search online for "mulch delivery near me" or ask for recommendations from friends and neighbours. Look for a company that offers a variety of mulch options and can deliver to your location.

Once you've found a company you like, place your mulch order. Most companies can deliver within a few days of your order. We have a convenient online shop to order 24/7 and offer reasonable mulch delivery rates.
With convenient mulch delivery, getting your garden in shape has never been easier. So, get ready to watch your plants thrive and enjoy the benefits of a beautiful, healthy garden!