The Consumer Product Safety Commission(CPSC) has done a bunch of studies over the years on residential and commercial swing sets. They have concluded that the rule of thumb is to extend your play surface 6'+ beyond the edge of the swing set. They also recommend that wood chips/rubber nuggets among others can be used as fill to create a pad that can reduced injuries. There is advantage to thicker fill material. Since their studies are every evolving, you should read about  CPSC guidelines, studies, and publications over at www.CPSC.gov.
Our Package Contains:  Mulch, Brown Rubber Edging, Weed Fabric, Pins & Labor 
IPEMA certified Rubber Mulch(choice of color) -or- Once Ground Wood Chips(natural color only)

Brown Rubber Edging(3″ tall) to contain the mulch
Commercial grade weed preventer fabric
Installation of the above products within 20 miles of 83 Landscape Supply Inc
Notes/Disclaimer
Please note that the area to be installed on must be clear. We cannot install over hard surfaces nor move objects such as stones, trees, plants or bricks. There is no excavation needed in our process.
According to the CPSC, play surfaces meeting their requirements for your specific swing set  fall height are designed to reduce injuries, however will not eliminate them.  Use of a play surface does not remove the need for proper adult supervision. We make no claims or recommendations other then what the CPSC states. We recommend that you do a pre-inspection before children play in the area for safety hazards.  Hazards should be fixed by owner before children play in area.
Our rubber mulch is IPEMA certified, our ground wood chips are not. Under the CPSC fall protection table our wood product would be "wood chips" not "engineered wood fiber". All wood material will break down and compact over time. Care will need to be taken to to loosen compaction(wood and rubber) and refill play area every so often if you choose to fill with wood chips.
| | | | |
| --- | --- | --- | --- |
| Brown Rubber Mulch | Red Rubber Mulch | Blue Rubber Mulch | Black Rubber Mulch |
| Ground Wood Chips Hand | Rubber Edging | Pins | Rubber Mulch Colors-Natural Light 2020 |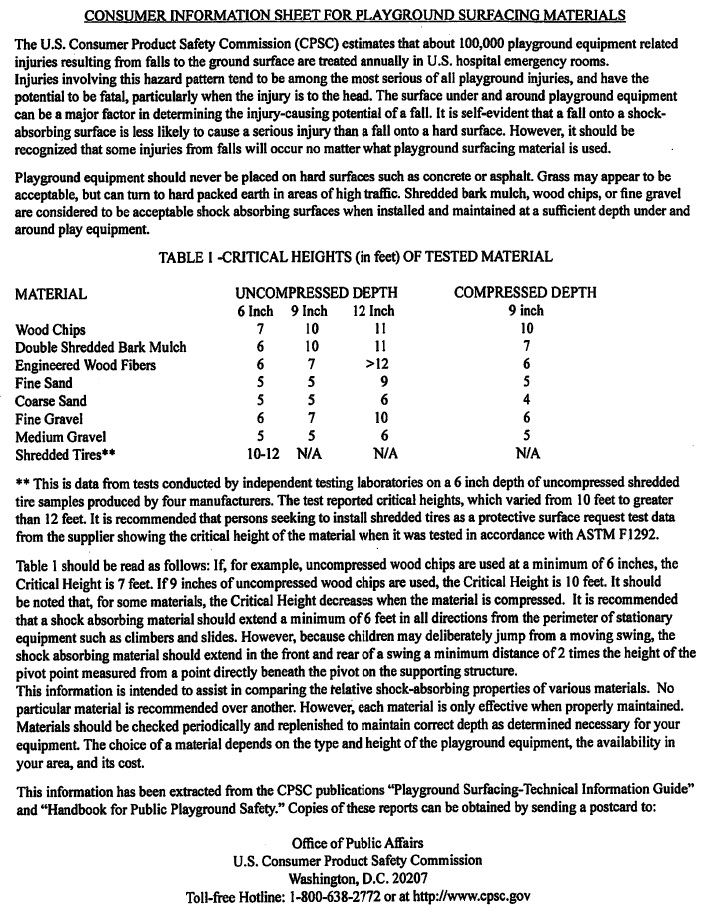 Looking for more information?
Head to our Rubber Mulch page for more detailed information on our Rubber Mulch.